From finding love to ordering food to fixing common household appliances, there sure does seem to be an app for everything. Thankfully, finding a job is no different. Nowadays, looking for a new job doesn't involve going through the classified section of the daily newspaper. Today, it is as simple as downloading an app and finding employment.
Mobile apps have to be the most exciting creations in modern day world. With these handy programs, everything is within your grasp. With job searching apps, you can find out more about the job you wish to apply for and discover new positions that are available.
You should, however, ensure that you have a soft copy of your resume on your phone, as well as a copy of a cover letter that you can modify easily, just in case a job post calls for both of them. In this way, you will be able to quickly complete job applications as soon as they appear on your screen. Here are some apps you can use to find a job!
Robert Half Direct
This is an app that is designed to make it easy for you to find work. You can search from their many categories such as temporary jobs, projects, full-time, temps, etc. You will also start receiving some job recommendations from the app based on your desired jobs.
When you register on Robert Half Direct, you will get even more benefits from the app. Further, when you match with an employer, you get connected directly to the hiring manager and you can then communicate with them in a one-on-one process.
Career Builder
This is a very popular job searching app that is used by many people. It gives you the option to use augmented reality when viewing jobs that are available within your local areas. You can also access the map so you can see other job postings.
There is a feature within the app that helps you prepare for your next job. A good example is that you will be able to find out which skills are needed for the posts you have always aspired to have. You can also learn about the job titles you may want to target in the future as you advance in your career.
Glassdoor
This is another very popular website. It provides access to millions of people, as well as companies. You can view new jobs, current postings, and even your former employers. The best part of this site is that it also gives you the salary ranges, which makes it easy for you to know how much you should expect to be paid.
You can apply for the jobs directly from your phone and even receive some instant notifications from employers on new listings that are able to match your criteria. You can swipe through the job listings and then email the company. In addition, you can also view their profiles to see how past and present employees have rated them.
Monster
This app is designed to look like a dating app. You can swipe left and right to either apply for a job or to pass on it. Just like Tinder.
The app also gives you alerts when there is an employer who has viewed your resume after you sent it to them. One other feature you will love on the app is the "in-app career concierge." This service offers you job searching tips and can help answer some questions you may have about using the app.
Indeed
When you download this app, you will be able to peruse their main database of jobs that hosts millions of positions from very many different companies. Additionally, they also have some job boards for you to check out what is being advertised.
You can search from their main categories of full-time, part-time, and freelancing positions. They also have everything else you may wish to apply for, and have more than 60 countries featured in their app. Their GPS system helps you to find work in the cities that are nearest to you. In addition, you can search for work in the places you have always wanted to work.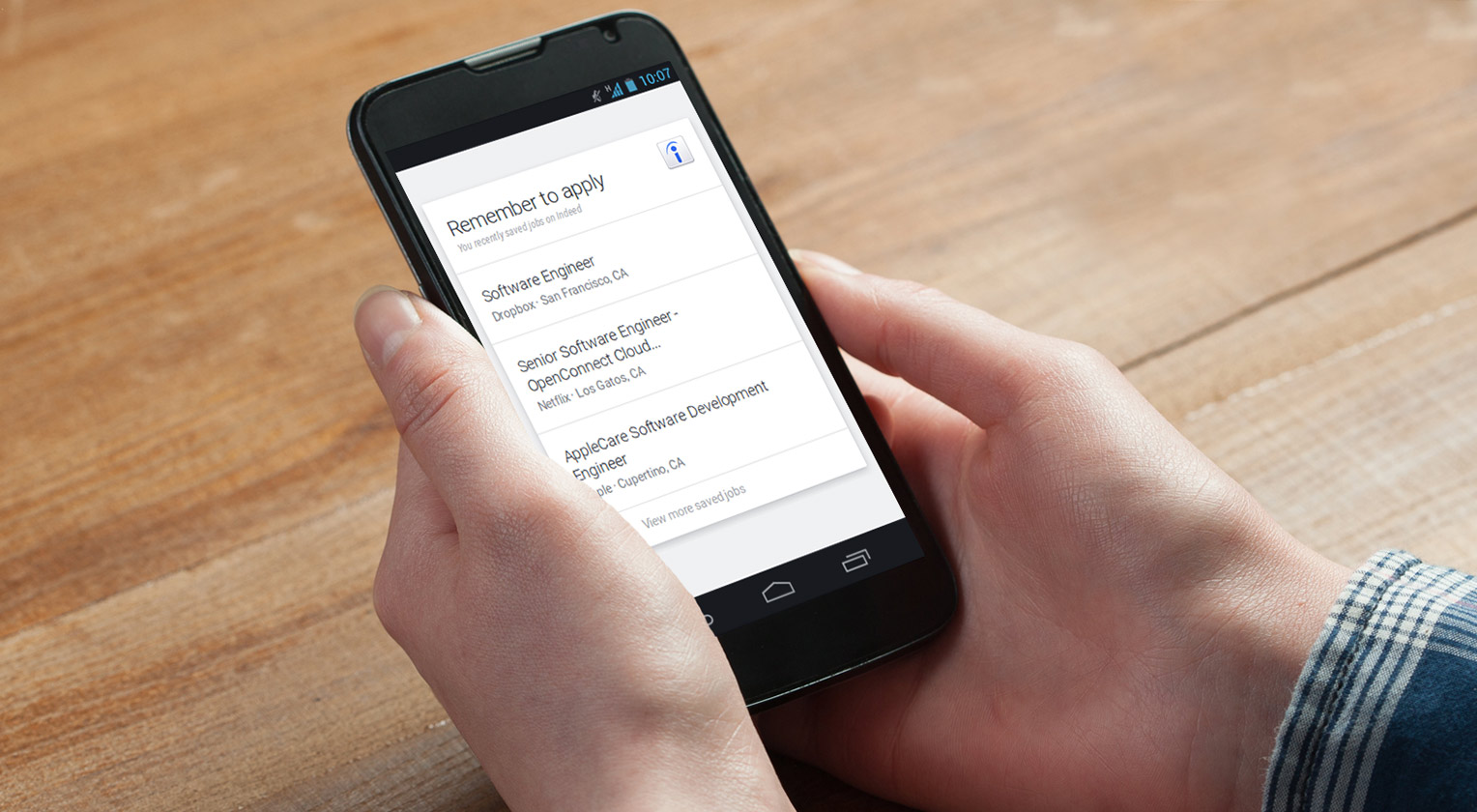 Conclusion
When it comes to looking for a new job, nothing is off limits. In order to find the very best, these apps can come in handy and give you the direction you may be seeking. All the best!