Without a doubt, Jack Reacher book series written by British author Lee Child is one of the most popular series in the thriller genre. But why is it so, what makes it so great? Here in this post, you will find our review about Jack Reacher book series and the reading guide including the chronological list of Jack Reacher books in order to help you get started.
Lee Child has written 23 books in his Jack Reacher series, with more on the way. The first book in the series, Killing Floor, was received so well that it set the stage for the 22 more installations and a never-ending saga that continues to this day.
The books tell the story of Jack Reacher, the lead character and protagonist of the series. He is an ex-military policeman with a dark past.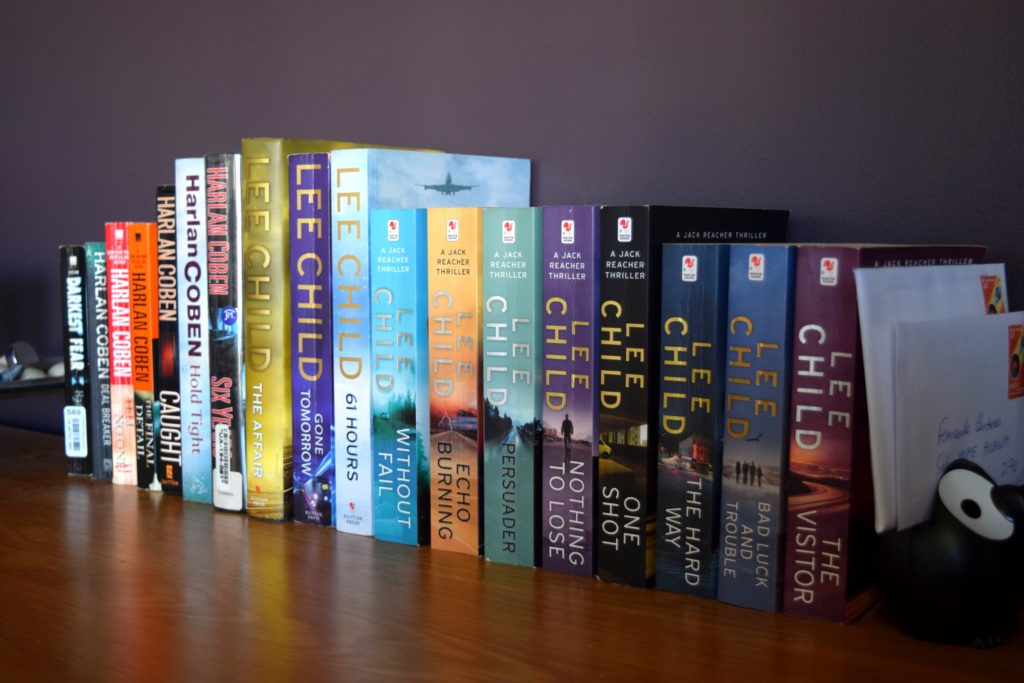 What makes Reacher so universally applicable is his convenient backstory. Child describes Reacher as 'two things in one'. On the one hand he is an ex-military cop who doesn't fit in with regular folks. On the other, and perhaps more importantly, he is a descendant of a mysterious knight errant.
As you can imagine, this carefully constructed narrative gives way to a treasure trove of fictional masterpieces that Child has skillfully turned into a multi-million dollar franchise.
Jack Reacher Books in Order – How To Read Lee Child's Jack Reacher Book Series
Let's not keep you waiting more and get right into it. Here is the full list of Jack Reacher books in order with their synopses.
Killing Floor (1997)
Killing Floor is the story of the titular character of the series, Jack Reacher, an ex-military policeman who is accused of murdering a man in Margrave, Georgia. A series of thrilling events unfold as Reacher tries to prove his innocence, and is shocked to the core when he finds out who the murdered man is.
Although Killing Floor is the first Jack Reacher book to be published, some fans suggest that you should read it after completing The Enemy, Night School, and The Affair respectively. The remaining books in the series can then be read in their order of publication.
Die Trying (1998)
While strolling on the streets in Chicago city, Reacher sees a handicapped woman and rushes to her aid. Before he can fully understand what's happening, he finds himself held at gunpoint. The kidnappers demand an outrageous ransom from Reacher and the woman, Holly. But being who he is, Reacher would rather 'die trying' than give in to their demands.
Tripwire (1999)
Living in Key West, Reacher learns that a certain Mrs. Jacob is looking for him in New York City. As it turns out, she is a wealthy attorney who wants Reacher to investigate her deceased father, General Garber's last project. What follows is a thrilling adventure where Reacher becomes the target of a psychopath who would do anything to protect his dark secrets.
Running Blind (2000)
Also published under the alternative title The Visitor, this book is about a serial killer who is targeting several women across the country. The catch? Every woman who is murdered was Reacher's acquaintance – and it's driving the protagonist crazy as he tries to figure out the real motive of the madman.
Echo Burning (2001)
Echo Burning is Lee Child's take on romantic novels. A young woman offers a ride to Reacher as he is hitchhiking in the sweltering summer in Texas. The beautiful, rich girl happens to a true damsel in distress.
What is her story? Will Reacher help her out? What troubles await the two of them at the end of the journey?
Find the answers in Echo Burning.
Without Fail (2002)
Jack is asked to do something he wouldn't have ever thought of even in wildest dreams – assassinate the Vice President of the United States.
What happens next? Pick up Without Fail to find out for yourself.
Persuader (2003)
Can the ghosts of your past come back to haunt you?
Persuader is about Reacher's age-old enemy, Quinn, whom he believed to be dead. Known for killing Reacher's colleagues a decade ago, Quinn is a deadly foe – but the hero is determined to bring him to justice.
The Enemy (2004)
In a small motel in North Carolina, a general is murdered on New Year's Eve. Reacher is asked to investigate the case, but before he can even begin properly, another dead body is discovered.
A stomach-churning tale of gruesome murders, The Enemy will keep you up reading all night long as Reacher tries to figure things out.
One Shot (2005)
Five people are shot dead, gripping the city in terror. However, the case is quickly solved and closed by the local cops. The interesting thing to note is that the alleged killer keeps requesting the policemen to 'get Reacher' for him.
The Hard Way (2006)
Reacher is watching a man cross a busy street in NYC. But he is not just a random passerby. The man is carrying a million dollars of ransom money, and Reacher must ensure that it reaches the intended recipient, who is holding a family hostage.
Bad Luck and Trouble (2007)
Jack Reacher loves solitude and a remote lifestyle. He prefers to stay off the grid as much as he can. So when an old military officer comes looking for him, he knows something is suspicious.
His fellow army members are in crisis – and Reacher must come out of his comfort zone to help them.
Nothing to Lose (2008)
Nothing to Lose combines suspense, drama, action, and adventure all in one epic story.
Jack travels from one small Colorado town to another, only to find out that he is a totally unwanted visitor. The cops themselves drop him at the neighboring town line.
Jack has 'nothing to lose' and he just has to find out the reason behind the local's aversion to visitors.
Gone Tomorrow (2009)
As a policeman with years of experience in law enforcement, it isn't hard for Reacher to identify a suicide bomber from a pool of suspects. He is analyzing the subway passengers and thinks that he has found the one he is looking for.
Will Jack be able to save lives? Or will his intervention lead to adverse effects instead?
Read Gone Tomorrow to find out.
61 Hours (2010)
Jack is forced to get off at a small town near Bolton in South Dakota after a raging snowstorm causes his bus to come to a halt. Here, he meets a woman who is trying to fight for justice in the cruel world. The '61 hours' following their meeting are highly critical as an assassin arrives in town.
Worth Dying For (2010)
Set in a rural town in Nebraska, Worth Dying For is based on the battle between right and wrong.
Reacher overhears a doctor who refuses to attend to a patient in dire need of first aid attention. Why will the doctor not help the victim of domestic abuse? And why does everyone cower upon hearing the name of the woman's husband?
Read the book to find out.
The Affair (2010)
The Affair follows the events six months prior to the storyline of the first book in the series, Killing Floor.
It is based on Reacher's undercover investigation of a case of cold-blooded murder. The victim, who is found to be a soldier's girlfriend, was either killed by a local guy or a member of the army instead.
A Wanted Man (2011)
While looking for a ride to Virginia, Reacher gets an offer from a woman who is accompanied by two men. They seem friendly, but Reacher has learned not to judge a book by its cover.
A massive conspiracy unfolds and needless to say, Reacher finds himself in the center of all chaos.
Never Go Back (2012)
Never Go Back can be considered to be a sequel to 61 Hours. Jack revisits the headquarters of his old army unit. All he wanted was to meet the charming commanding officer, Major Susan Turner. But he is charged with homicide, and consequently, arrested on these grounds.
Will he regret going back? Or will someone else regret his arrival?
Personal (2013)
Personal follows Jack's struggle as he tries to find the person who unsuccessfully tried shooting the French President.
The policemen know there is only one person who could have done it – and Reacher is the only one who can find him.
Make Me (2014)
Reacher is passing through a town called Mother's Rest, and he is intrigued by the name. But before he can learn about the origin of the name, he learns about a woman searching for her colleague who's been missing for a very long time.
A one-day stop at the remote town suddenly turns into a perilous journey leading to the discovery of dark and sinister secrets.
Night School (2015)
Night School gives the reader a deep insight into Reacher's life as a member of the army. He is placed in a top-secret task force consisting of two other people – a CIA analyst and an FBI agent.
Their mission? Find 'The American' and determine what he is selling and to whom.
The Midnight Line (2016)
Reacher comes across a West Point class ring in a pawn shop. The ring bears the initials of a female cadet, which Jack recognizes. Knowing the woman and what she went through to get the ring in the first place, he decides to find her so that he can return what is rightfully hers.
Past Tense (2018)
A young couple is trapped in a desolate motel in an unidentified place. On the other hand, Reacher is traveling across America and decides to visit the small settlement where his father grew up.
As the two stories gradually intertwine into a complex plot, you will find yourself glued to the pages of the Past Tense to see what happens next.
Blue Moon (2019)
Blue Moon begins by Jack saving an old man carrying a lot of cash from being mugged on a bus.
Meanwhile, there's a serious fight going on between two ruthless criminal groups, and somehow, the righteous avenger aka Jack Reacher lands right inthe middle of the battlefield. Well, you guessed it, saving the old man from trouble is what led Reacher into trouble.
But to know the complete story, you will have to pick up Blue Moon.
Jack Reacher's Fully-Fleshed Out Character
By all definitions, Jack Reacher is the epitome of a tough no-nonsense man. He was too tame for normal life and left home at only 18 years old to join the army.
An apathetic cynic with anti-social tendencies, Reacher served in the army for 13 years and soared past the hierarchy to reach the rank of Major, he was briefly demoted to the rank of Captain but regained it a few years later.
Reacher is always bouncing around from place to place. This makes his character truly isolated and lonely. Any friends he makes along the way, are left as and when he takes his leave, including his love interests – and there are many romantic interludes in the novels!
Set piece fights are almost a regular fixture and Reacher is always trying to figure out who the bad guys are and what's happening. This tried and tested approach works every time.
To say Jack is a battle-hardened soldier would be an understatement. He has a long list of medals in honor of his heroics in battle, including Silver Star, the Defense Superior Service Medal, and the Purple Heart. A drifter at heart, Jack, never settles in any one location at a time, that's just not him. His persona invites trouble as he's always trying to solve clues and problems plaguing different locations.
When Jack was just passing through Margrave, Georgia, he got in trouble with the authorities who charged him with murder. The first novel in the series, Killing Floor, follows Jack's escapades in an intricately intertwined story, with the plot thickening with each page.
Should I Read the Jack Reacher Books in Chronological Order?
At first glance the sheer number of books is enough to intimidate prospective readers, but a closer inspection of the stories will reveal that each book is a self-contained story or a collection of novellas. You don't need to read the books in chronological order because of the way Child has written his novels. You can just as easily read the books at random and your experience won't be hindered.
Throughout the books there is only one constant: Jack Reacher and his awe-inspiring character. There are recurring themes and tropes throughout, with little in the way of confusion.
But just to be on the safe side, our recommendation is to start with the very first book in the series, Killing Floor, which started it all. Although Killing Floor was widely acclaimed by many readers, there was a section of critics who faulted Jack Reacher's character as 'unconvincing'. Although Child is not one to worry about critics, he did try to address some of their concerns with his second novel 'Die Trying' but ignored their requests for the most part.
It's always a good idea to read through the first two novels to truly understand the depth of most major characters in the series, including that of the larger-than-life Jack Reacher. Once you're well versed with Jack Reacher, you can safely hop over subsequent installments in the series without feeling confused.
If you would like to have a complete chronological list of Jack Reacher books in order, look no further, check it out below.
A Masterpiece by Lee Child: Jack Reacher Books in Order of Publication – The Chronological List
[table id=3 /]
Why Did Lee Child Never Plan His Novels?
Child's approach to writing each book is rather unorthodox in that, he doesn't plan the story. The plot just develops along the way organically and naturally. Child dislikes the long and drawn-out planning process and gets bored of all the deliberation. This unique approach at storytelling allows Child to express his vivid imagination and develop all his characters organically. One could say that Child truly lets his imagination run wild by taking the driver's seat.
Interesting Statistics About Jack Reacher
Over 100 million Jack Reacher books have been sold. This means that one book is sold somewhere in the world every 9 seconds. The Jack Reacher movies have made over $380 million at the box office. Dwayne 'The Rock' Johnson admitted that he was turned down for the role of Jack Reacher in favor of Tom Cruise.
Movies Starring Tom Cruise – How Many Jack Reacher Movies Are There ?
After many attempts at bringing the novels to movies, a Jack Reacher film was announced in 2010 starring Tom Cruise, much to the chagrin of readers.
The answer to the question "How many Jack Reacher movies are there?" is two, at least for the time being. The first movie, Jack Reacher hit the theaters in 2012 while the second, Jack Reacher: Never Go Back was released in 2016.
Is there a third Jack Reacher movie in the works?
Probably not as Tom Cruise was dropped as the lead of the movie franchise and more importantly, a Jack Reacher TV series is being developed by Amazon, two facts indicating we should not expect a Jack Reacher movie any time soon.
Although the movie was well received by critics and audiences alike, purists of the original novels were not happy.
This is because the novels describe Jack Reacher as a hulk character standing over 1.9m tall, weighing in at 250 pounds, and boasting a massive 50 inch chest. This absolute unit of a man was played by the considerably smaller Tom Cruise at 5 feet 7 – and that never sat well with fans closely following the books.
Even Child admitted that Tom Cruise was just too 'tiny' to play the role. For now, a new TV series is in the mix with Amazon's Prime Video having won the rights to stream the show online.
Jack Reacher TV Series in the Works
Amazon is working with Lee Child to adapt the novel series into a TV show with Nick Santora and Christopher McQuarrie among the list of producers, along with Child himself.
It is widely believed that Cruise won't be starring in the series given the public outcry due the last two movies. Jack Reacher TV series is in its early days and no actor has been announced so far.
Books Like Jack Reacher – Book Reccomendations for Jack Reacher Fans
Vanished by Joseph Finder
The Black Echo by Michael Connelly
Ghostman (Jack White Novels) by Roger Hobbs
The Betrayed by Casey Kelleher
This wraps up our review about Lee Child's masterpiece thriller series including the reading guide for Jack Reacher books in order, we hope you liked the content. See you in the next chapter!